Upon activation of your Cleantie account, follow the instructions below to get started quickly.
Log on to http://pos.cleantie.com
Enter your Cleantie username & password (password is case sensitive)
1. Setup Customer App Settings
To change the store details, images, services, FAQ and price list in Cleantie customer app follow steps below:
From Cleantie POS, Select Admin -> Delivery -> Delivery App -> Settings
Use 'About Us' to describe your business.
Select Galley to upload your own images, drag and drop to rearrange the position of the image. Press Delete to remove any images.
Select Services, FAQ to make changes.
Use Preferences menu to make changes to preferences menu that are used in customer app profile.
The changes are applied to customer app store details dynamically.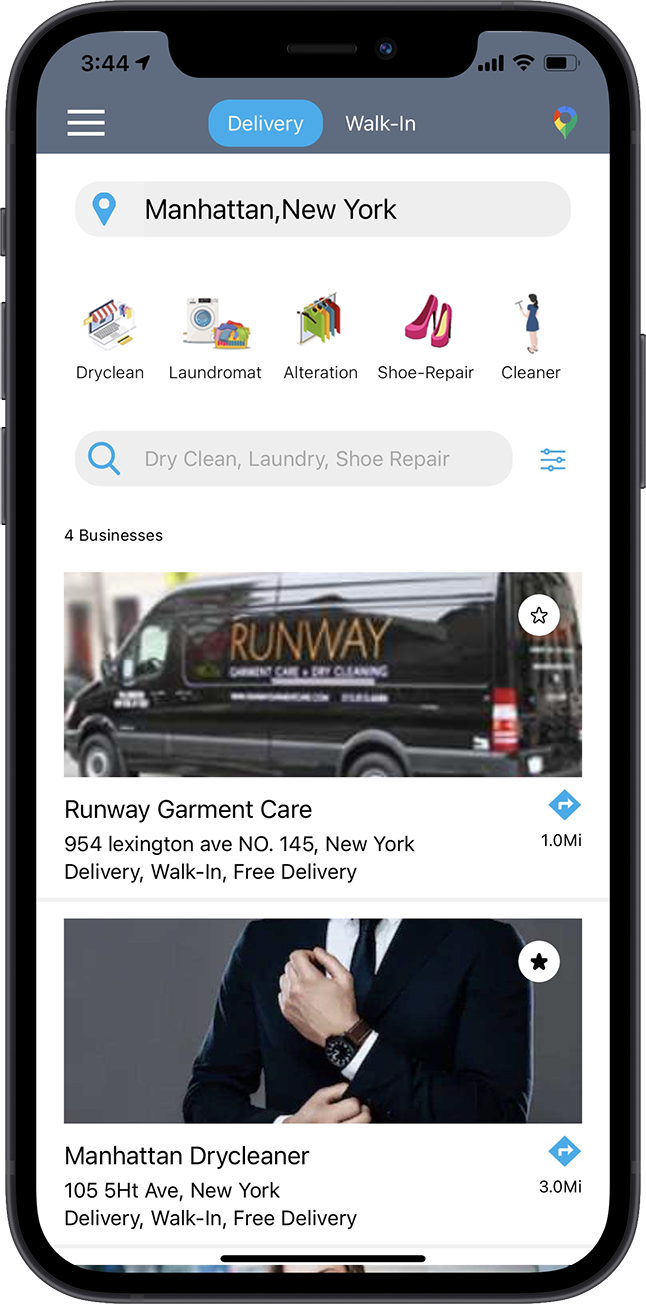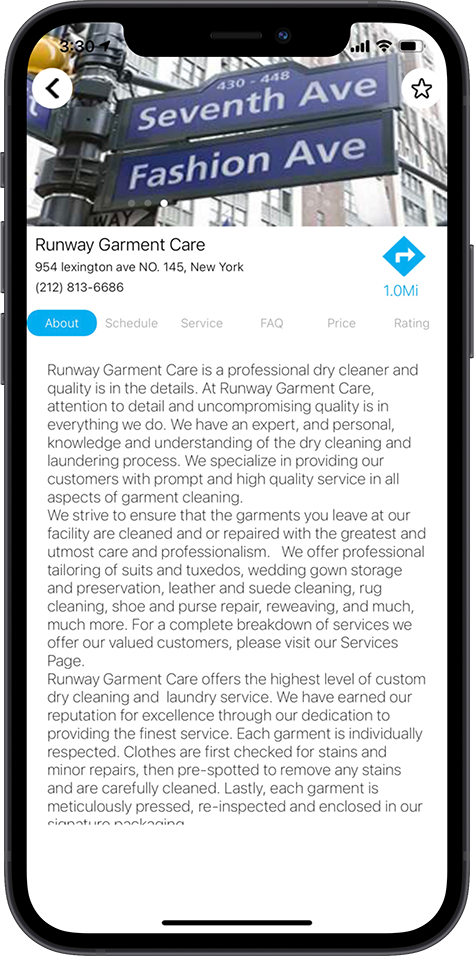 2. Setup Your Route Delivery
Cleantie offers a complete and comprehensive route planning system with an optimization technology. Cut down on operating costs, reduce drive time & mileage, and improve customer service with Cleantie route planning solution. Identify the shortest, fastest, and most efficient routes within minutes and take the headache out of route planning & scheduling. To setup your Route Delivery Area Follow steps below, only customers that are within your delivery area can request pickup.
Select Admin -> Delivery -> General -> Routes
Create delivery routes by selecting 'Add A New Route' icon. Enter Route Name, Description.
Select Add Daily Schedule for each delivery day. Use proper starting and ending time.
You may add multiple delivery time slots for each day. (i.e. 9:00 to 12:00, and 2:00 to 6:00.)
Use the map to create a delivery area. Find a good place to start and click on the map as the starting point. Select the 2nd point to draw a line, then next points to create a shape that is your delivery area.
Once the lines are connected it will show the Polygon. Verify that all of the points are in the right spot. You can move a line by pressing undo button or erase the entire area by pressing the Erase button.
Select Add/Update route icon to complete the process. Repeat the above steps for each Route.
Press Save to complete the changes.
For additional information review the following video:


3. Configure Delivery Settings
To setup your Delivery Settings like Minimum Order, Delivery days follow step below:
Select Main Menu -> Admin -> Delivery -> General -> Settings
The settings are shown in our customer app -> store schedule
ETA is the minimum time required in minutes to schedule the pickup request (e,g 120 Minutes)
Minimum Delivery Days, is the Minimum number of days required to process the pickup/delivery.
Minimum Order, the minimum order amount to be eligible for pickup & delivery service.
Delivery Fee is charged for each pickup & delivery. Currently, this delivery charge must be done manually to the invoice. We will add this automatically to the order in future updates of our platform.
If your store is online only with no physical store front, select the 'Hide Location' option.
If your store does not have any pickup delivery service, disable the option.
If your store offers Walk-in Drop off or Pickup, go to Admin -> Store, enable Walk-in feature. Customers can use Walk-in option to do curbside drop off or pickup and pay in advance through the app.
Enable Auto Approval option, if you like pickup request to be approved automatically. Otherwise you have to use Cleantie Dispatcher app or Cleantie POS to approve the pickup request.
4. Try Cleantie Customer App
Follow the instructions to download Cleantie customer app to see your store.
Use the following link from your mobile phone to download the Cleantie customer app: https://cleantie.com/delivery.html
Create an account using your mobile phone number to register.
A security code is sent to your mobile phone and must be used to activate your account.
Once verification is complete, you will be prompted to complete your profile and setup primary store.
Setup your profile by entering your name, credit card and address.
Select your store, and see your business settings, like 'About Us', images, Prices, Schedules, Services, FAQ that were setup in step 1.
Once your credit card is verified, it will be saved on Google Cloud or Square server.
Click below to see the customer app video:
5. Setup Price List
A well-designed and properly set up price list menu dramatically improves the POS efficiency, reduces staff training time, maximizes productivity, and your bottom line.
Our Cleantie price list consists of the following categories: Schedules -> Services -> Departments -> Items. The item defines the work and price. E.g Jacket – Regular $8.80
To change your prices, follow these instructions:
Go to Admin -> Price List -> Price List Tree.
Download the price list template to create your own price list menu.
Select import Price list
Download the price list template that applies to your business (i.e. Dry Cleaning, Laundry, Alteration, etc.)
Make changes as you wish by deleting rows that are not used or by adding new rows for missing services, departments, items.
Use priority column to assign priority to services, departments or items
For additional price list, add a new schedule, below the last row of previous price list schedule.
Email the price list to CSI to import the price list for you.
You may setup a different price list for Delivery customers and select this as default price list for Cleantie customer app. To change the default price list for customer app, go to Admin -> Delivery -> Delivery app -> Settings.
For additional information click below:
6. Import Customer List
If you have a customer list that you want to use in Cleantie, you can enter it into a customer CSV file and then import it in your Cleantie database. You can also use the customer CSV template to build a new customer list. When you export a CSV file from your Cleantie admin, it opens as a .csv file in your computer's native text editor. You can also use an alternative text editor, but it's recommended that you use a spreadsheet program like Google Sheets or Microsoft Excel to view and edit your CSV files instead.
Follow steps below:https://youtu.be/dsxrg79o9XY
Go to Admin -> System -> Import Customers
Select Download a sample file to see the format.
Add your customers to the sample file.
Click on Upload your customer list, and then select your customer CSV file. This process might take a few minutes, please don't close the browser during this operation.
Upon successful completion, the customers whose records you've added to the CSV will appear on the Customer.
For additional information, see the following video:
7. Test Drive Your Delivery Process
To test drive your pickup delivery process, follow these steps below:
Login to Cleantie Cusotmer App.
Select the truck icon to request a pickup.
You should receive an email notification from Cleantie with details of the pickup.
Log on to Cleantie POS to see the details of pickup request, by clicking on the truck icon near the top right and approve the pickup. Cleantie Enterprise Edition subscription offers Dispatcher App that allows you to see the pickup requests, and chat with customer. For additional information check our Dispatcher user's guide.
Once the approval is made, a push notification is sent to the customer app.
To see the details, from customer app, select main menu, select Pickup Request icon.
8. Printer Driver Installation
The Cleantie driver is used to setup a connection between your installed peripheral drivers and Cleantie App. Cleantie supports most thermal printers for invoice printing. Epson TMT88V is the recommended invoice printer. Epson TMU220 is the only supported tag printer. Cash drawer must be Epson compatible. The scale must use USB interface. The Printer. Follow steps below to install the driver:
Install your Windows Printer driver that comes with manufacture CD
logon to your account on app.cleantie.com platform. Select the printer icon from the top menu.
Select the link Click here to download our printer driver to your computer. Please note the driver is only supported on Windows. Drivers for IOS and Android devices are coming soon.
Go to download folder in your computer, and run the cleantie_driver_setup.exe file.
Upon completion of the Setup program, Go to Windows Start, Select programs, Open Cleantie folder, Select Cleantie Driver.
Logon to the driver using your Cleantie account credentials. Go to Settings, Select Invoice, Tag printer and Cash drawer from the browse option.
For additional information on Cleantie peripheral devices driver, watch the video::
9. Invoice & Tag Printing Customization
Cleantie offers a very powerful and sophisticated tool to customize your printed Invoices & Tags format. Logon to Cleantie POS, select Main Menu -> Admin -> Custom Forms from the left-hand side menu.
To get started, add your own company logo to the printed invoice, click on the Logo. Choose your image using the browse option, then press Upload. You can upload any image (typically your logo) that you want to show on your invoices. You may change the format or position of any printed data. You get what you see on the screen.
To restore the settings to system default settings, Select Restore option from top right corner.
For additional information on Cleantie custom forms setup, click below:
https://support.cleantie.com/hc/en-us/articles/360021458591-Customizing-Your-Cleantie-Invoices-Tags
You must restart your printer driver, after any changes made to the custom forms.

10. Online Credit Card Processing
Use your existing Payware connect account to process credit card through Cleantie App and POS.
At the moment we only support Verifone Payware connect. We are in the process of integrating Square Payment system. Square Payment is the easiest way to support Apple Pay & Google Pay, which enables friction-less credit card payments and eliminates the need to manually type card or shipping details. Your customers authorize payments through biometrics such as Apple's Face ID. For additional information on Payment processing visit the following page:
https://support.cleantie.com/hc/en-us/articles/360021061231-Payment-Processing
11. How to Promote the Customer App
Use the following methods to promote your customer app and pickup delivery business.:
Use Cleantie Campaign
Online ordering is one of the easier ways to boost your sales by up to 25%. Cleantie Promo coupon is used to promote your online pickup/delivery business. Your customers can sign up through the customer app to qualify for the promo coupon. The system automatically applies the promo coupon through the check out process.
Go to pos.cleantie.com and log in to your Cleantie POS account.
Click the main menu icon and Select Admin
Go to Marketing -> Promos
Click 'Create a New Promo' to create a new promo.
Enter an amount and validation limit. (e.g $15, 10 days)
(Optional) Customize the text message to your personal liking.
Do not change the default app download link (https://cleantie.com/delivery.html) as this is required for proper delivery of promo coupons.
Use <First name>, <Store Name> and <Value> place holders like the following sample: "HI <First name>, <Store name> is giving $<Value> with <Store Name> Pickup/Delivery App. Get the app today at https://cleantie.com/delivery.html
Use the following process to run your promo campaign:
From Marketing menu, select Campaign
Select all customers with a valid mobile phone number.
Customers that are using the app will be excluded.
Click on 'Send promo to selected customer' to send the promo to the selected customers.
A text message will be sent to the selected customer's mobile number with the download link.
The text message template from step 8 of the promo coupon setup will be sent to the customers.
As soon as a customer signs up and a pickup is requested, a promo coupon is created in the Cleantie POS.
To check customer's promo coupon, logon to Cleantie POS, Select 'Checkin', view customer -> select payments -> Available Credit
For additional information, review the following article:
https://support.cleantie.com/hc/en-us/articles/360038182031-Cleantie-Promo-Coupon
Use Tell a friend
From Customer App, select menu icon.
Select Tell a friend, send the link to your customer via text or email.
Add Cleantie App to your Website
Add the following link to your website for your customers to download the Cleantie customer app https://cleantie.com/delivery.html
Print Cleantie App download link
Use the following links to download and print Cleantie or Cleantie+ customer app download link and place it at your store front counter to make it easier for your customers to download the app. The link determines the correct version of mobile device to download the app automatically from App store or Google Play.
https://cleantie.com/downloads/cleantie.pdf
https://cleantie.com/downloads/cleantie+.pdf
Use Cleantie Dispacther app
Cleantie Dispatcher app can be use to make and send promotional coupon to your customers. By offering coupons, you can keep your old customers while attracting new ones. Almost everyone is always after which stores offer them great discounts or stores that can help them save. For additional information please refer to Cleantie Dispatcher App user's guide.
12. Cleantie Driver App
Cleantie Driver app offers a complete and comprehensive route planning system with an optimization technology. Cut down on operating costs, reduce drive time & mileage, and improve customer service with Cleantie route planning solution! Click below to see Driver video:
13. Cleantie Dispatcher App
Cleantie Dispatcher app offers a complete control over your pickup delivery process and provides communications tool between dispatcher, driver, customer and store manager. Use dispatcher app to view all customer's activities, profile, pickup request orders, invoices and coordinate and manage the delivery manifest.
The Cleantie Dispatcher app has an integrated communication tool that allows dispatcher to make a call or send a direct message to the customer with a single tap. Never miss a prospect by engaging with the user directly through dispatcher chat function and answer any questions they may have.
Cleantie Dispatcher interactive manifest allows you to dispatch your own driver or 3rd party delivery service like Postmates. Postmates enable your business to offer your customers immediate or scheduled delivery options without having your own driver or truck. Postmates deliver to over 3,500 cities and growing. Postmates Delivery is available in all 50 states. Postmates is not available in Canada.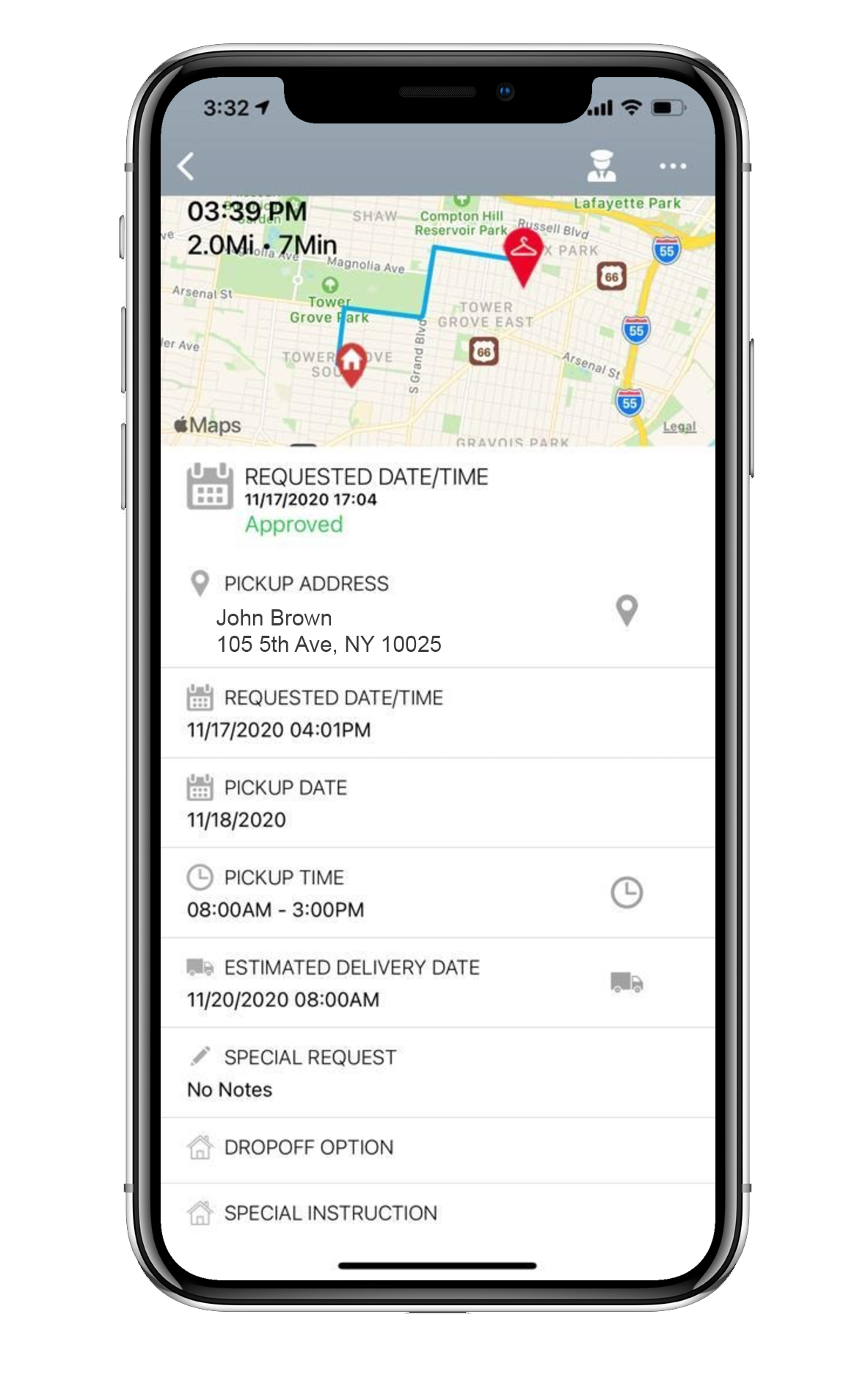 14. How To Get Help
Use the following articles and videos on how to use Cleantie system quickly & efficiently.
Click below to see our Training videos:
https://www.youtube.com/playlist?list=PLm_BwlceQAEZ7a4lu8-X1gmzCgdc_Ne-3
If you're interested in learning more about our products, click on the link to view our help articles. https://support.cleantie.com/hc/en-us
Use the link below to make an appointment to setup a one to one presentation for you and walk you through step by step. https://calendly.com/computersystemsint