Easily Customizable – Ability to Incorporate Modern Design Schemes
The Cleantie Check-In screen is the most user-friendly and powerful on the market. It allows users to price orders systematically and accurately with the touch of a few keys. With our interactive design, screens on all of our devices flow naturally and seamlessly, making the next step always predictable.
A highly functional and flexible menu layout offers success for any POS. In order to accommodate some of the most demanding menus, Cleantie's minimal menu design delivers comprehensive and logical sequencing to dramatically reduce entry errors and therefore increase overall productivity. Unlimited Service options, departments, item menus, and modifiers ensure that any price list can be implemented, so you can design a simple user interface for your staff.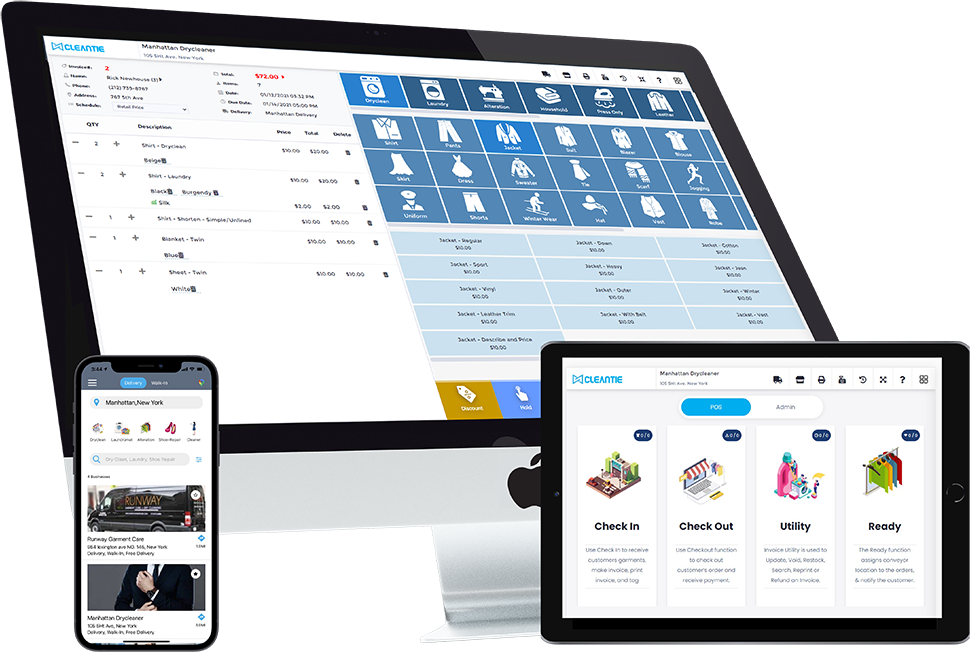 Know your business better, using our sophisticated dashboard
The dashboard shows the most valuable metrics that give you insight into the performance of your store and the behavior of your customers. The metrics are shown in numeric format and also as graphs where appropriate. Data is made digestible for everyone – Cleantie Analytics is designed to make numbers easy to understand. No need to hunt through spreadsheets as Cleantie Analytics breaks it down for easy calculation.

Customers Insights feature
Attracting customers is the primary goal of your business because it is the customer who creates the demand for your services. Businesses often compete through advertisements or lower prices to attract customers. Happy customers are expected to continue using your services. It is crucial to closely monitor the relationships you have with customers, often asking for their feedback to learn whether new products should be created or adjustments made to what is currently offered.
In the Age of Experience, increasing customer expectations compel us to improve our business model. The Cleantie Customer Insights report provides you with complete control of how customers are using your services.
 
Sophisticated Customer Profile
In the modern marketing world, understanding customer trends is crucial. The Always On consumer demands a level of service; customer profiling is a huge step towards being able to improve that. Enabling you to draw insights on customer activity and frequency, profiling your customers enhances business opportunities. Capture customer information and connect regularly to keep your business top of mind. Cleantie offers a very sophisticated customer profile to track your customer's details. To provide better customer service, use customer profiles to create a special price list, assign specific discounts, make special requests notes, or add urgent notes. Use CRM notes to track each incident or complaint about the customer.
Garment Tags
3" wide tag rolls are the most popular and affordable tags on the market that are printed and cut automatically using an Epson TMU220 printer. Tags can be printed in 12" lengths for laundry, 1" lengths for dry cleaning, or 12" lengths for both. Made of heavyweight, wet-strength paper, with superior quality, it withstands all dry cleaning and laundry processes. The tag format can be customized using Cleantie's sophisticated form designer.
Click below to order garment tag rolls
Professional Invoice
Cleantie prints professional looking invoices on Epson or any thermal printer. A customized release form can be printed automatically to protect you from any potential claim or dispute. At no extra cost, you can print your company logo to give your invoice a professional look. Customize your invoice format to print advertising, customers' preferences, or any other optional messages.
Delivery route details with special instructions can be printed for your router delivery customers.The invoice format can be customized using Cleantie's sophisticated form designer.
Click here to order thermal invoice paper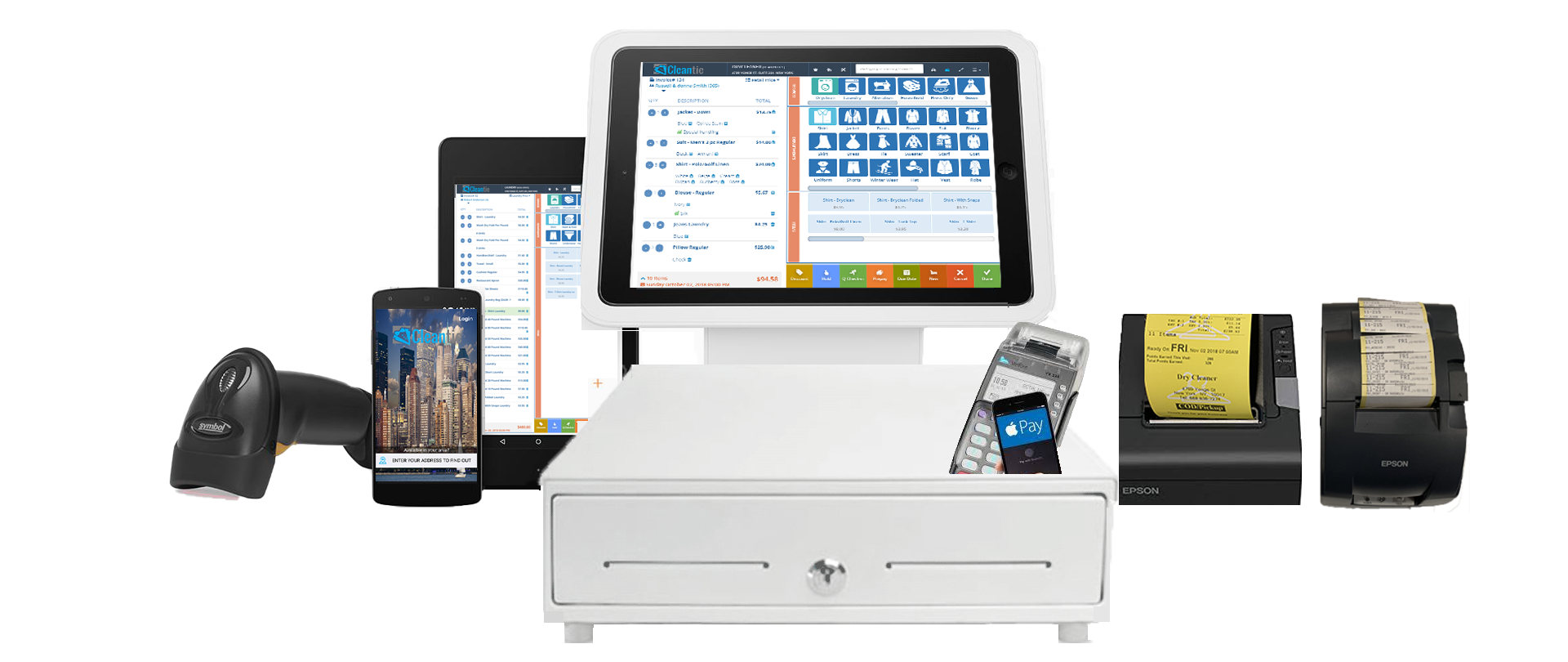 Professional Statement
Charge customer statements can be created and printed in a few minutes or sent by email to charge customers automatically. Credit Card on File Customers can be charged automatically using our integrated credit card processing software. The statement process can be grouped by Route Delivery, Company Customers, or Card-On-File customers.
Credit/Debit & Gift Card Processing
Cleantie processes credit/debit and gift cards through New Verifone Platform Point Services for cards present and Web-based Payware Connect for Card On File transactions. Stripe is the easiest way to support Apple Pay, which enables frictionless credit card payments and eliminates the need to manually type in card or shipping details. Your customers authorize payments with Touch ID.
VeriFone's Payware Connect is a highly configurable, hosted, web-based payment gateway service that provides the perfect way to generate recurring revenue. Merchants can efficiently and securely process payments from any internet-connected computer. Your cloud-based hosted payment solution is PCI DSS-compliant, so you reduce your PCI compliance scope. A daily settlement report is emailed automatically to keep merchants informed of daily transactions.
Use your own merchant account or get the merchant account through CSI merchant services to save money on payware connect hosting fees. Cleantie is validated with Paymentech, First Data North (CardNet), Elavon, and Heartland. Please note that the First Data Nashville platform is not supported, only First Data North.

Route/Delivery System
Cleantie offers a complete and comprehensive route planning system with optimization technology. Cut down on operating costs, reduce drive time and mileage, and improve customer service with the Cleantie route planning solution. Identify the shortest, fastest, and most efficient routes within minutes and take the headache out of route planning and scheduling.
Track delivery time, number of deliveries, driver ratings and reviews, cancelled, undelivered, and delayed orders, and much more to gain control of your business. Optimize deliveries with complete route management software.
Cleantie's interactive manifest uses the real-time Route Manager to provide you with step-by-step delivery instructions. Delivery drivers can save time and fuel with up-to-date information on traffic conditions, distances between points, and estimated travel times.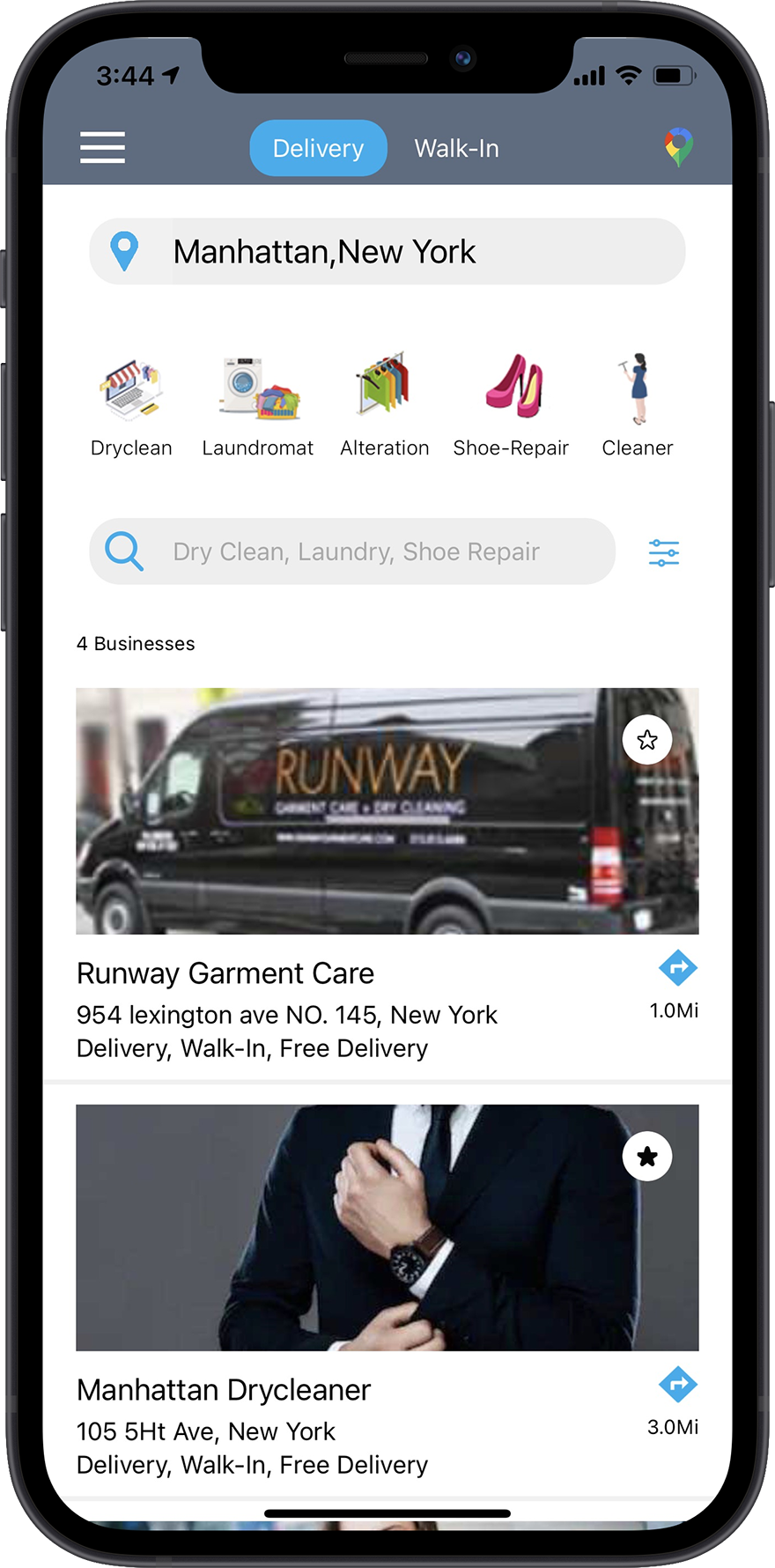 Google Firebase & SQL Database Cloud-Based Hosting
Cleantie runs on Google Firebase and is driven by a SQL database engine to increase reliability, scalability, and efficiency. Whether you're running 1 or 500 terminals, the product's performance remains constant—reliable and available.
Cleantie consolidated database is perfect for those who have centralized data needs with a small or large number of store locations and who need real-time order tracking between stores and head office. Centralized accounts receivable, pricing, promotions, marketing, time clock management, auto assembly, and reporting are made inherently simple in this mode.
Cleantie's cloud-based service offers an effective way to run your business better than ever before. We protect your valuable data from natural disasters, fire, and theft. In addition, Cleantie cloud-based services give you peace of mind from the complexities of managing and maintaining your computers and data. Your focus should be on running your business and not managing your computer system!
System Requirements
✓ Windows 10, Mac, iOS, Google Chrome, or Andriod Devices
✓ Epson TMT88V Printer or Any Thermal Printer for Invoice Printing
✓ Epson TMU220 Printer for Tag Printing
✓ Epson Compatible Cash Drawer
✓ Any Touch Screen Monitor
✓ Any Scanner
✓ USB HID-compliant weight scale
✓ Any Magnetic Card reader