If you are considering changing your POS system to Cleantie or have already purchased Cleantie, you may have some concerns regarding how to implement it in your business. If not done correctly, the transfer procedure can be complex and challenging.
Instilling confidence in your employees and improved adaptation when migrating to Cleantie can feel like quite the feat. If your staff is apprehensive about impending software adoption, don't stress. You're not the first organization to experience a software change. As a leader in laundry POS software, we've helped many laundromats and dry cleaners train their staff for success when it comes to software migration.

Migration Process:
Here's how Cleantie provides not only a smooth and secure POS migration but also relevant and personalized training on our POS software for your company. The following process explains each step in detail: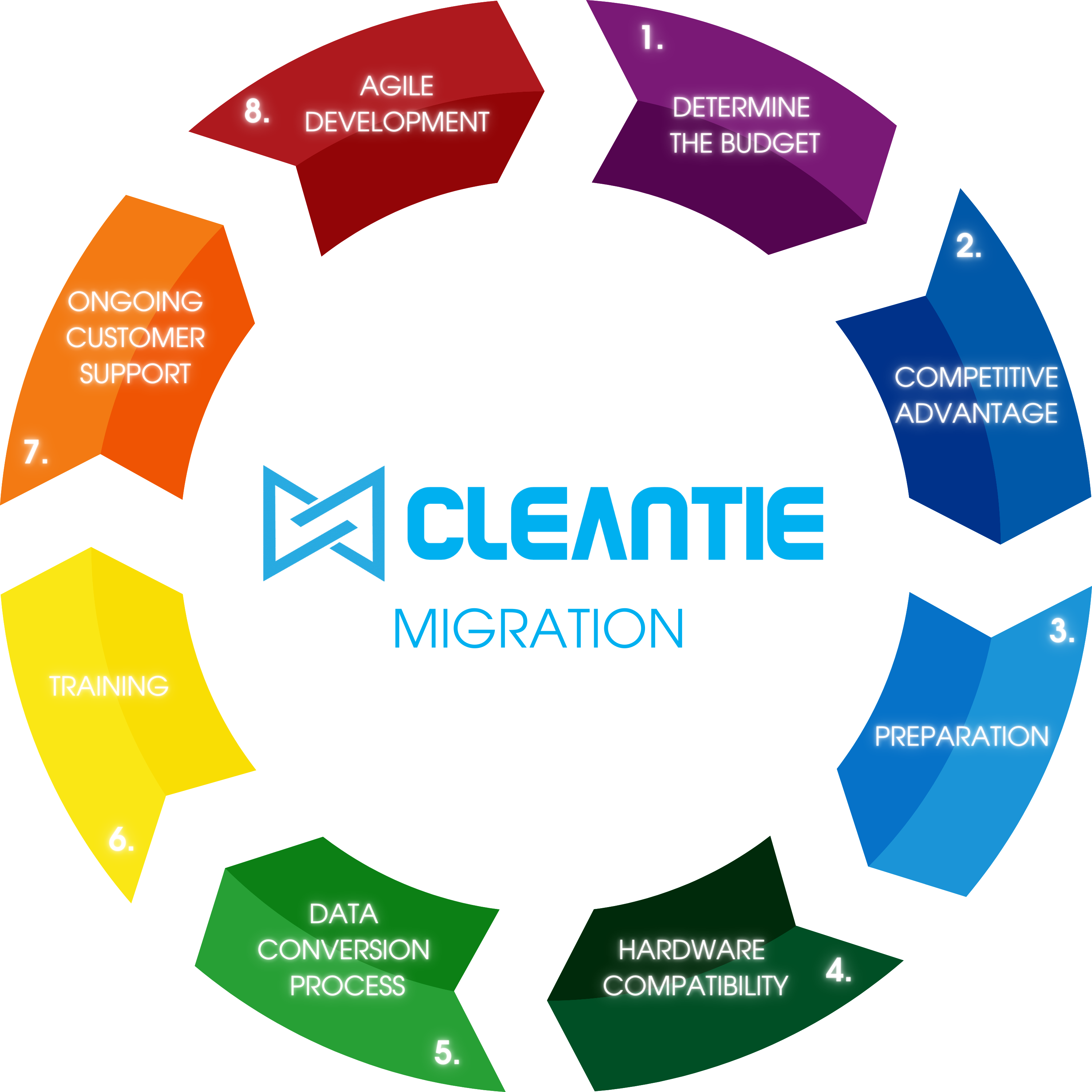 Determine the Budget
First, determine the budget your business is willing to invest in a POS system, and second, define your needs in order to make an informed decision that honors both your budget and your demands. Cleantie allows you to select from a variety of plans, allowing you to determine which one is best for your business. Cleantie provides straightforward pricing with no setup expenses through a subscription plan. Select the items and plans that are suitable for you. Click here to see our subscription plans.
The Competitive Advantage
Also, it can be beneficial to consider not only a point of sale's technical aspects but also partnership aspects such as ongoing support offered by the POS company, after-sales service, their corporate culture or partners with whom they do business and that can potentially bring other benefits to your business. Cleantie is developed using the latest and most advanced technology by running on Google Cloud, and cloud-based Microsoft SQL database. Google Cloud Platform, offered by Google, is a suite of cloud computing services that runs on the same infrastructure that Google uses internally for its end-user products, such as Google Search, Gmail, file storage, and YouTube.
Cleantie offers the most advanced credit card processing that it is integrated with Clover, Square, Stripe and Verifone Payware connect. Cleantie automatically provides Cash Discounts and Tips via Clover. By passing the cost on, you will never have to pay credit card fees again, allowing your business to grow.
Cleantie POS is integrated with laundry cards from Card Concepts, Laundroworks, and EDS which manufacture and develop automated systems for the self-service laundromat industry.
Click here to see The Competitive Advantage of Cleantie.
Preparation
There is certainly a lot of information about your customers, employees, and services in your existing system. It is critical to keep your data transfer procedure simple during migration, which consists of moving data from your old system to your new Cleantie system. In this instance, it is important to organize your data based on your future requirements. Sorting through unneeded data may be really beneficial. It is also possible to test the migration process with a few contacts, for example, to learn more about the operation and better prepare for it.
Cleantie takes a "do-it-for-you" approach to POS system migration, making it simple for customers. Our Cleantie experts will migrate your data, allowing you to focus on your business and eliminating a lot of unneeded stress. We provide a quick and easy transfer procedure. However, the time necessary to transfer your data depends on your availability, price list, customers, and so on. Cleantie software is adaptable and may meet your specific requirements. It is possible to customize the program to meet your specific requirements, and our staff will handle this for you during the conversion process. As a result, you may enjoy a simple, worry-free migration!
Hardware Compatibility
It is important to check the compatibility of your old hardware with the Cleantie point of sale software. Cleantie support all thermal Invoice printers and Epson TMU 220 for Tag printing. Cleantie does not support serial scales but supports any USB HID-compliant weight scale.
Cleantie works across PC, Mac, iOS, Google Chrome, or Andriod Devices. The following description shows the minimum and recommended hardware requirements.
Windows 10 or Windows 11 with 8 GB RAM
Mac, iOS, Google Chrome, or Andriod Devices
Epson TMT88V Printer or Any Thermal Printer for Invoice Printing
Star Micronics MCP30, mC-Print3, Thermal, 3", CloudPRNT
Epson TMU220 Printer for Tag Printing
Epson Compatible Cash Drawer
Any Touch Screen Monitor
Clover Flex, Clover Mini, or Square Terminal to process CC
Any Scanner
USB HID-compliant weight scale
Fairbanks Flat Top Parcel Shipping Scale is recommended
Please note invoice printing on iPad or Android tablets is now supported using Star Cloud Printer.
Where can I get the hardware?
We've put together a bundle for each business type to make getting started with your new system as simple as possible. Take a look at our Cleantie hardware bundles.
Cleantie also partners with ShopPOSportal to ensure customers receive the necessary hardware needed to use our system. If you don't require the entire bundle, you may buy hardware separately from here.
The data conversion process to Cleantie
Follow the steps below to import your data to Cleantie. We are here to help you through each step to make sure a smooth conversion is done.
Importing Customers to Cleantie
We are able to convert your existing customers to Cleantie. If you are using the CSI Legacy system, we can import it for you. If you are using any other POS system, follow the steps below to import your customers:
Logon To Cleantie POS
Select Admin -> Management -> Customers
Use the link to Download the Customer file template or use this link
Add your customers using the template.
Select Upload your customer list.
Importing Price List to Cleantie
Your Cleantie database is created during the signup process by using the default price list for the selected business type. If you are using the CSI Legacy system, we can import your current price list to Cleantie. However, we recommend taking advantage of Cleantie's simple price list structure to redo your prices.
To make changes to the existing price list follow the steps below:
Select Admin -> Management -> Price List -> Price List Tree
Make changes to prices.
If you don't wish to use the default price list, you may use our intuitive price list templates in excel format. Select the Import Price List option, and select the sample price list template.
Make changes to the template by adding or removing any services, departments, or items. For additional information use the link below: https://support.cleantie.com/hc/en-us/articles/360021060711-Price-List-Setup-Process
You may email the price list template to Cleantie support to help you with the process.
Importing Transaction to Cleantie
Unfortunately, we are not able to transfer your transactions to Cleantie.
Importing Credit Card On File
Cleantie offers the most advanced credit card processing. Cleantie is integrated with Clover, Square, Stripe, and Verifone Payware Connect. Accept payments from customers directly inside Cleantie. Sync payments to invoices run transactions directly on individual invoices.
Due to PCI compliance, we are not able to transfer your existing Card On File data to Cleantie. Use the link below to forward to your customers to download and install the Cleantie Customer App to create the profile and add the card on file.
https://cleantie.page.link/?link=https://cleantie.page.link/customerapp&apn=com.csi.cleantie&isi=1454392774&ibi=com.csi.cleantieuberversion&efr=1&ofl=https://cleantie.com/delivery.html
Please note that Cleantie does not keep the card details but only saves the token from the processor. By tokenizing, you can ensure that credit card information is not being stored in your system.
Click here to signup for Clover Account
Obtaining Personalized Training
In order to consolidate the implementation of your new Cleantie, it is advisable to schedule online training to ensure the success of the process. Click here to schedule an appointment.
Assisted Training
Assisted training allows you to seek assistance from specialists to ensure the success of your operation.
Cleantie ensures that you and your workers are properly trained. Depending on your availability and needs, we provide personalized and custom training. We also adapt our training to the type of store (single location or several locations in your network). With Cleantie, it is therefore simple to have access to the proper point of sale software training. We handle both the initial data transfer and the preliminary system configuration.
Our team is also happy to help you get started with the program on your team's first day, delivering a worry-free experience from start to end.
Ongoing Customer Support
Also, with Cleantie, you get unlimited online support. It is also our pleasure to assist you with your questions at any time through our easy-to-use support website, where you can send customer support tickets to our team. These tickets can be viewed at any time if you decide to create an account on our website, thus allowing continuous monitoring of your questions while the answers are given to you by our team.
Ongoing Development
Our staff at Cleantie is invested in your success, and we provide customized development for your company, such as a brand customer app or your own domain website. Furthermore, we can tailor the program to your specific requirements in order to maximize your operations. Plus, our staff does frequent system updates to ensure seamless functioning while securing your data!
CSI Legacy POS to Cleantie migration consideration
If you are using the CSI POS legacy system and are planning to migrate to Cleantie, make note of the following features that are missing in Cleantie. These options will be available in the near future.
Loyalty Points.
Heat seal tracking tag and auto assembly system.
Wash & Fold laundry machine cost tracking.
Production tracking.
Label printing.
Commission tracking.
Serial Scale Support. We only support USB HID-compliant weight scales.
Where can I get more training for using Cleantie?
Cleantie online support page is full of training articles, manuals, and videos that can help you through the migration process. Click here to view the support page.
Setting up your new POS