What is included in free trial?
Full Cleantie Enterprise Edition for 14 days
The most advanced POS App
Cleantie Customer App
Cleantie Driver App
Cleantie Dispatcher App
You won't be charged until after your 14 days
No commitments, you may cancel anytime
Is there a setup, support or license fees?
There is no setup, support or license fee. We can help you to set-up your hardware. Cleantie app is offered as SaaS. With SaaS, customers can pay to use the software as an on-demand service through a subscription rather than a single purchase transaction. The software is licensed by a number of users and/or levels of features. The SaaS model allows CSI to keep control the hosting and operation of the software. Customers also do not have to worry about hardware/software compatibility and support to run the application, therefore eliminating a major overhead. There is nothing to own, and the customer simply uses the software as they see fit. Customers can purchase and download the App through the Cleantie.com website with the tap of a button.
What is the included in Premium Plan?
Premium plan is best for small operation, with No Pickup/Delivery option. Limited transactions. unlimited price list, unlimited customers. Unlimited Online Support.
What is the included in Premium and Professional Plans?
Cleantie's Professional plan offers everything from the Premium plan, plus customer app. This plan is best for mid-size operations that offer pickup delivery service through customer app. Free Cleantie or Cleantie+ customer app allows your customers to request on demand pickup/delivery. Driver and Dispatcher app are not included in this plan.
What is the difference between Professional and Enterprise Plans?
The Enterprise plan offers everything from the Professional Plan plus driver and dispatcher app. Cleantie Driver app offers a complete and comprehensive route planning system with an optimization technology. Cut down on operating costs, reduce drive time & mileage, and improve customer service with Cleantie Dispatcher App.
Is it easy to get started?
Absolutely. It only takes a few minutes to get up and running. You can import your price list using our simple price list template designed for Dry Cleaners, Alteration, Shoe Repair or laundromat operations. Or enter your own price list using our simple intuit interface.
During my trial how do I change to a paid subscription?
Before 30 days trial is expired, simply purchase the subscription plan from your account. You will be able to choose another plan and begin your subscription at any time during or after your trial. Your credit card will not be charged until you have selected a plan and confirmed your subscription type in the dashboard.
There's no contract or commitment. You're free to switch plans or cancel any time.
Can I work from anywhere on multiple devices?
Access and manage your Cleantie from your computer, laptop, tablet, or smartphone anytime you choose.
Why do I need to enter my credit card details to sign up?
We require a credit card on file to configure your billing account and issue the free trial; however, no charges will be applied until you have selected a billing plan at the end of your 14-day trial period. We accept Visa, MasterCard, and American Express.
During my trial how do I change to a paid subscription?
Before 14 days trial is expired, simply purchase the subscription plan from your account.
Can I change plans?
You can upgrade or downgrade between Cleantie plans that suits your needs right from your account.
What hardware is Cleantie compatible with?
Cleantie works from any device like PC, Mac, iOS, Android, Tablet. We support Epson or any standard Thermal Invoice Printers, Epson TMU220 Tag printer and Epson Compatible cash drawer. We support any touchscreens, USB HID-compliant weight scale, and all barcode scanners. At the moment, invoice and tag printing is only supported on Windows platform. We are in the process of adding Star cloud printing support for any platform.
Where can I order invoice and 3" wet-strength tag rolls from?
Cleantie invoice and tags rolls can be ordered directly through Cleaners Supply.
What is the difference between Cleantie and Cleantie+ customer app?
Free Cleantie customer app is North America's fastest-growing — Dry Cleaning, Laundry, Clothing Alterations, Shoe Repair, and Home Cleaning Delivery App, that uses the latest technology to make your life easier.
Cleantie app is like Uber Eats, that display all businesses in the area that offer the above services. Customer can select the favorite store by reviewing store details, delivery schedules, ratings, and prices.
Cleantie+ app is like your own app, that is downloaded by your customer. Customer must search your business name or phone number to signup. There are no nearby stores listed in Cleantie+, only your store.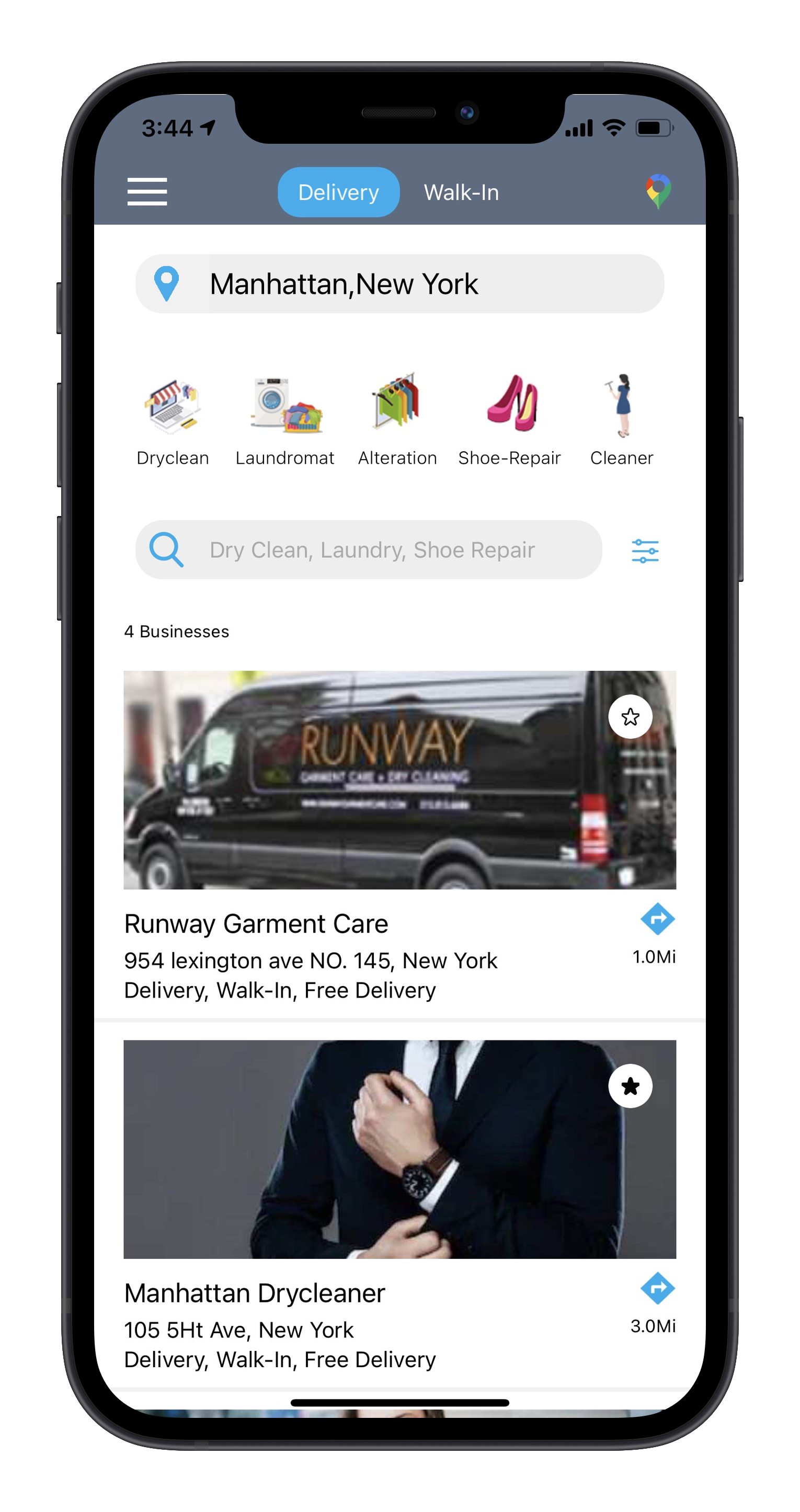 Can I have my own brand customer app?
Absolutely! Provide a more personalized experience for your customers by having your own brand customer app. Increase brand awareness with a personalized look and feel. The perfect way to present your brand and stand out from the crowd. Your branded App is based on Cleantie and powered by Cleantie engine. The process includes testing, deployment, and submission to Apple iTunes and Google Play. The process takes 5 to 6 weeks and the cost is US$2950.00
Click here to see Ashford Cleaners branded App.
Click here to see American Mega Laundromat branded App.
Click here to see Laundry Guys branded App.
How do I integrate my website with Cleantie?
Why are you charging separately for SMS?
SMS pricing is based on the destination and type of message you're sending. Our pay-as-you-go pricing gives you a fair price. We negotiate the best rates possible with our providers and then bill you for just your usage at cost (no markup).
What is a task in Driver App?
A task is the core unit of work to be completed by drivers (e.g. a pickup or delivery per customer). For billing purposes, tasks are counted when completed through Cleantie driver app.
Does Cleantie support my own merchant account?
Cleantie processes Credit Cards through Integrated Hosted Web-based Payware Connect for Card Present or Card On File transactions.
At the moment we only support Verifone Payware connect. We are in the process of integrating Square Payment system. Square Payment is the easiest way to support Apple Pay & Google Pay, which enables friction-less credit card payments and eliminates the need to manually type card or shipping details. Your customers authorize payments through biometrics such as Apple's Face ID. For additional information on Payment processing visit the following page:
https://support.cleantie.com/hc/en-us/articles/360021061231-Payment-Processing