The Competitive Advantage of Cleantie
The following article explains Cleantie's competitive advantage over any other market rival.
Competitive advantages are attributed to a variety of factors, including cost structure, branding, the quality of product offerings, technology, intellectual property, support, and customer service.
Developed by leading
innovator

in the industry
Cleantie's cloud-based platform is developed and owned by Computer Systems Int'l (CSI), a leading developer of POS, Back office, Wireless, Web, App, and Enterprise Software Suites since 1997.
Cleantie is the 3rd generation software of CSI POS products.
CSI has been committed to providing reliable, flexible, and easy-to-use point of sale software for Dry Cleaning, Laundromat, Alteration, and Shoe Repair.
CSI products have been used by over 5000 large corporations and small businesses in over 40 countries, including the USA, Canada, Australia, Europe, South/Central America, Middle East, Africa, Mexico, and Asia.
CSI has earned great reviews and established itself as a leading innovator in the industry, and CSI will continue to provide "Simply Better POS" by ensuring the highest quality development and support of its products in the years to come.
Cleantie is developed by in-house developers instead of a 3rd party software development company that our rivals use. This reduces bugs, streamlines the software development cycle, and reduces software support; this allows the support to be straightforward and efficient. Outsourcing software development has security risks, and you have no control over the whole development process, so your investment is not well-protected.
Most Advanced Technology
Cleantie is developed using the latest and most advanced technology by running on Google Cloud and a cloud-based Microsoft SQL database. The Google Cloud Platform, offered by Google, is a suite of cloud computing services that run on the same infrastructure that Google uses internally for its end-user products, such as Google Search, Gmail, file storage, and YouTube.
Best user-friendly interface and most powerful features
Cleantie is the most user-friendly and powerful POS in the market. It allows users to price orders systematically and accurately with the touch of a few keys. With our interactive design, screens on all of our devices flow naturally and seamlessly, making the next step always predictable. Cleantie's menu design delivers comprehensive and logical sequencing to dramatically reduce entry errors and therefore increase overall productivity. Unlimited Service options, departments, item menus, and modifiers ensure that any price list can be implemented, so you can design a simple user interface for your staff.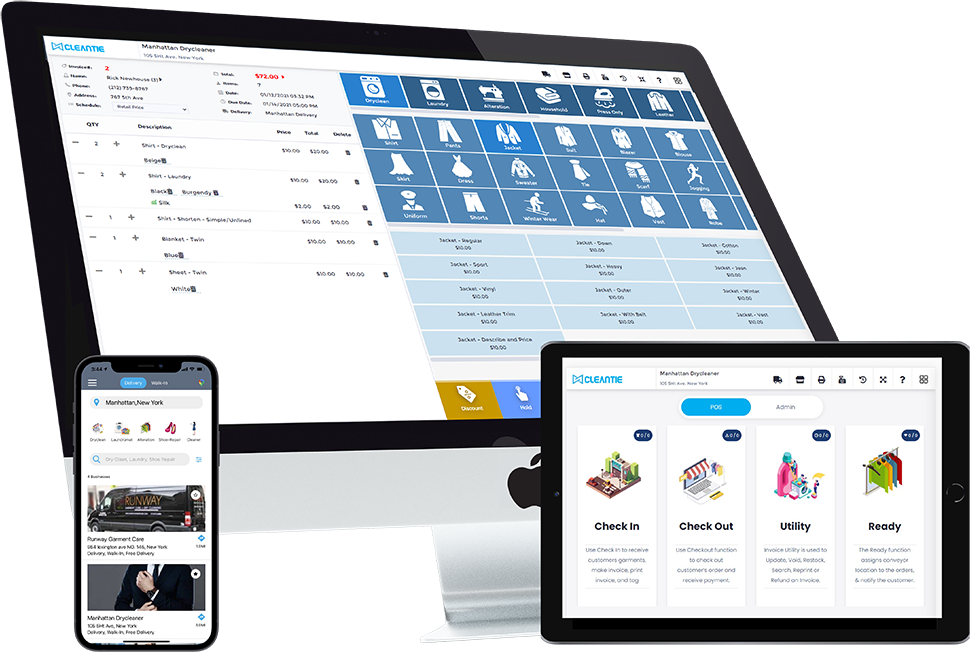 Best value for money
Cleantie subscription plans are the best value for money in the market. Choose the products and plans that work for you. Get and pay for exactly what you need. No hidden costs. No contract. No risk.
Start your 14-Day free trial and find out.
All the tools you need to run, manage, report and grow your business
Cleantie is modernizing your business. The Cleantie platform includes the following apps: Cleantie POS, Cleantie & Cleantie+ Customer, Cleantie Driver, Dispatcher, and Cleantie Promo, all designed to empower your business!
Cleantie POS is fast and has an intuitive design for modern businesses. It's easy for anyone to use as it works across PC, tablet, and smartphone devices. Cleantie offers the best and latest technology for your business to empower customers.
Cleantie Driver app offers a complete and comprehensive route planning system with optimization technology. Cut down on operating costs, reduce drive time and mileage, and improve customer service with the Cleantie route planning solution.
Free Cleantie customer app allows your customers to request on-demand pickup or delivery. Cleantie is North America's fastest-growing dry cleaning, laundry, clothing alterations, and shoe repair pickup and delivery app, using technology to make your life easier so you have more time to get back to your busy life.
Free Cleantie+ customer app is like your own app, that is downloaded by your customers. A customer must search for your business name or phone number to signup. There are no nearby stores listed in Cleantie+, only your store.
Cleantie Dispatcher app gives you complete control over the pickup and delivery process, as well as a communication tool for the dispatcher and store manager. Use the dispatcher app to view all of your customers' activities, profiles, pickup requests, orders, and bills, as well as to coordinate and manage deliveries.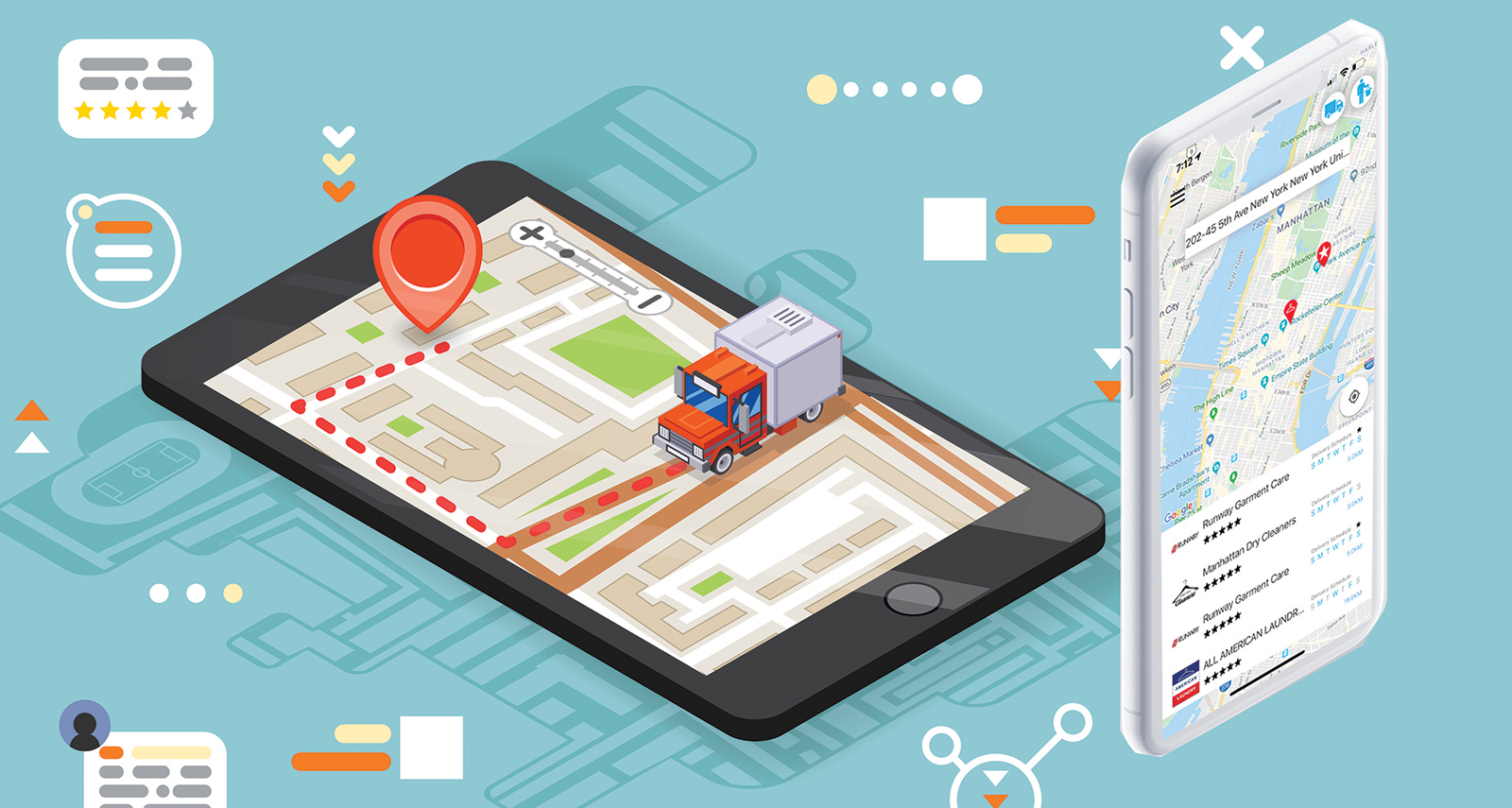 Use you own brand and domain
Provide a more personalized experience for your customers by having your own brand customer app or domain for the Customer Pickup Delivery App. Increase brand awareness with a personalized look and feel. This is the perfect way to present your brand and stand out from the crowd.
When loading the customer app, Cleantie Customer Web App uses your own domain rather than the competitor's domain. (e.g https://app.ashfordcleaners.com vs https://app.rival.com )
    
Get listed for free on Cleantie
You will automatically be listed on the Cleantie delivery map for free. The Cleantie customer app is North America's fastest-growing dry cleaning, laundry, clothing alterations, shoe repair, and home cleaning delivery app, and uses the latest technology to make your life easier. The Cleantie App is like Uber Eats in that it displays all businesses in the area that offer the above services. Customers can select their favorite store by reviewing store details, delivery schedules, ratings, and prices. Take advantage of the Cleantie marketing campaign for free when customers are looking for cleaners or laundromats in the area.
https://cleantie.com/stores.html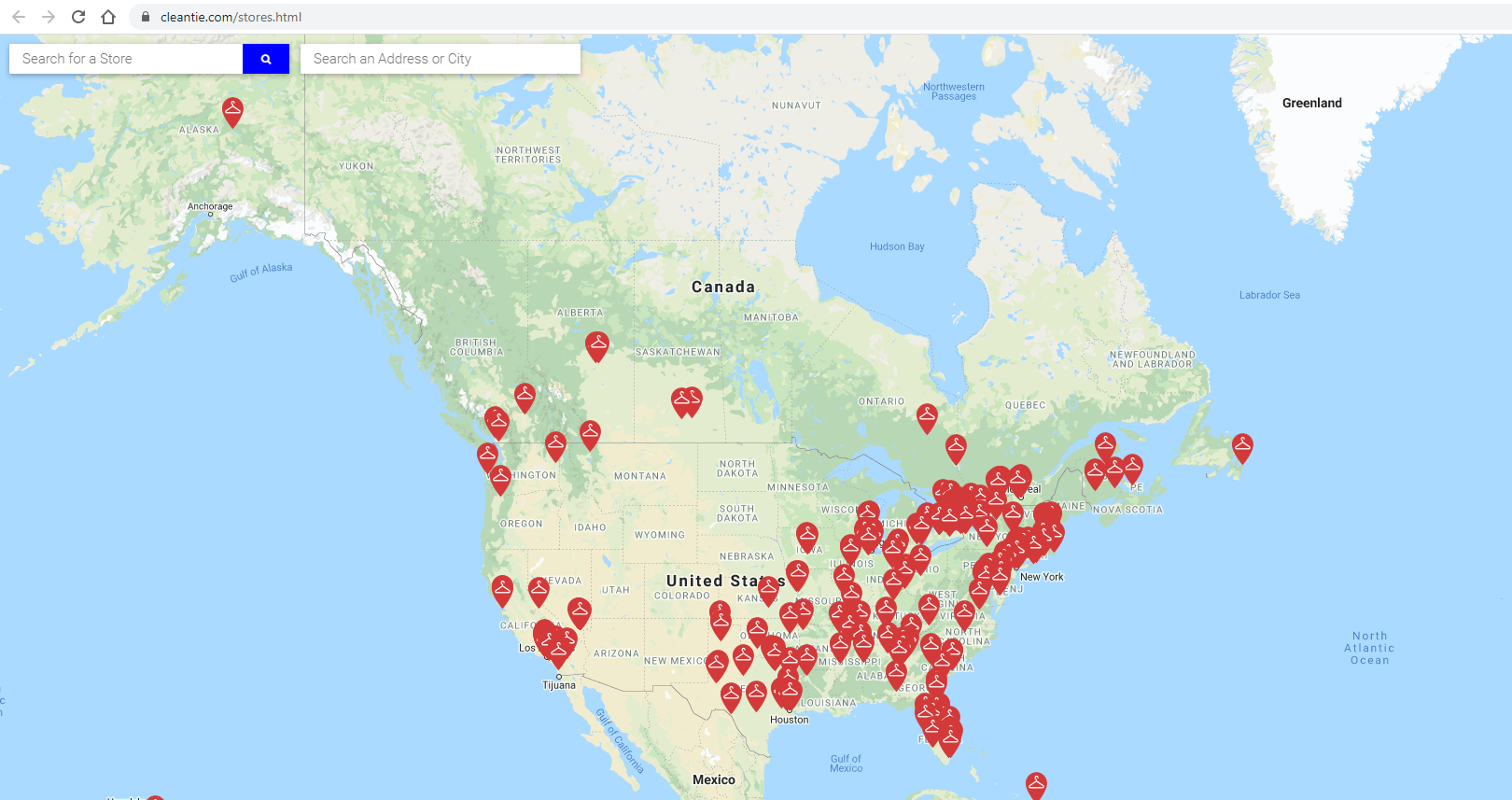 Phone verification vs Email
Cleantie Customer Apps uses a phone verification process for signup versus other similar companies that use email. A simple 6-digit code is sent via an SMS to the user, asking the user to re-type the code back into the app. If this process succeeds, there is a high confidence that the user has access to that phone number. It makes sense for businesses to verify users on the devices they use every day.
Phone verification is the most secure and simple way to verify a user's identity and protect your app or service from data loss, fraud, and malicious attacks.
Laundromat Special Features
Cleantie has special features designed for laundromat operations. Cleantie POS is integrated with laundry cards from Card Concepts, Laundroworks, and EDS, which manufacture and develop automated systems for the self-service laundromat industry. Cleantie supports any USB HID-compliant weight scale. Save time and money by quickly and easily weighing Wash & Fold bags.
Use Cleantie shopping cart to sell retail items by scanning UPC code and track inventory automatically.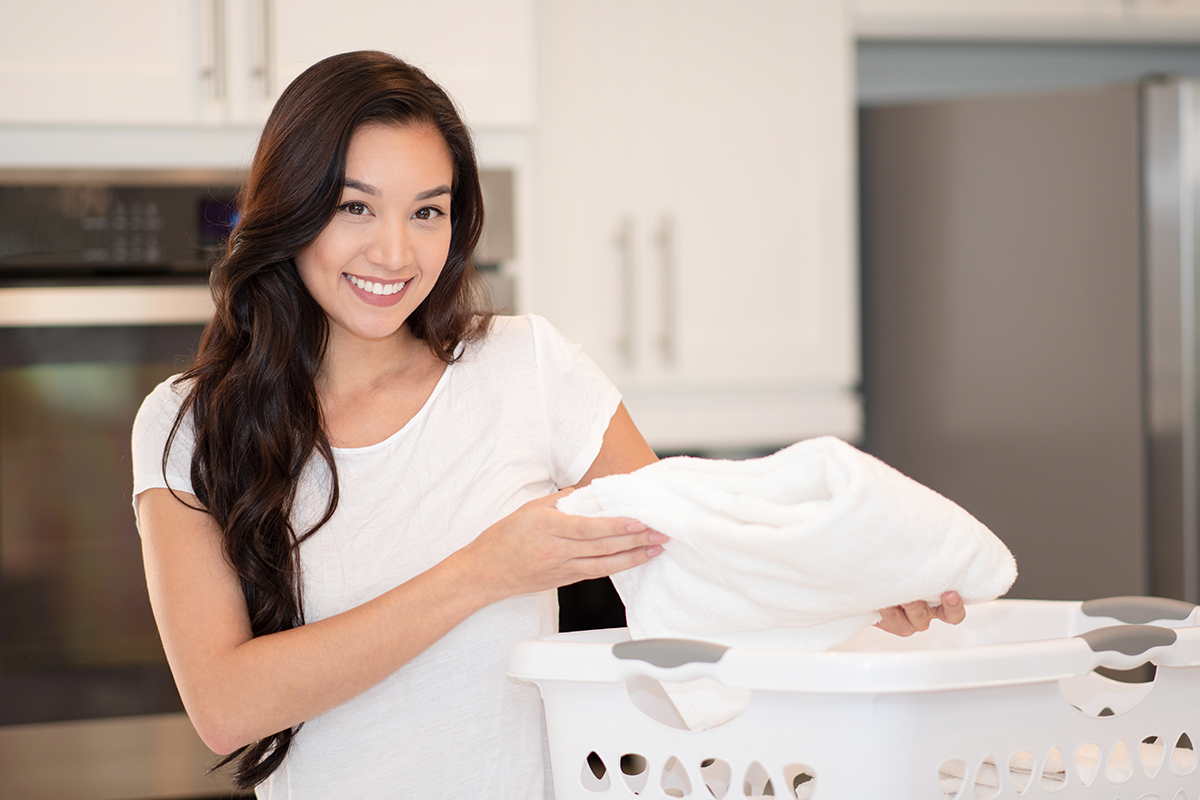 Most advanced credit card processing
Cleantie is integrated with Clover and Verifone Payware Connect, and is in the process of integrating Square and Stripe. Choose what is best for you. Use your own merchant account or get a merchant account through CSI merchant services.
Cleantie now supports Clover credit card processing. Allow your customers to pay how they want: with a dip or a tap, credit or debit, Apple Pay, Google Pay, WeChat Pay, Alipay, and other options. We are also in the process of integrating Square's payment system. Square Payment is the easiest way to support Apple Pay and Google Pay, which enables friction-less credit card payments and eliminates the need to manually type card or shipping details. Your customers authorize payments through biometrics such as Apple's Face ID.