Cleantie POS or Customer App is not available in the Clover App market. Instead, Cleantie POS uses Clover's Semi Integration through Cloud Pay Display to process credit card transactions on Clover's Flex terminal device and uses Clover's eCommerce API to process Card On File payments for App customers. Our customer app uses Cleantie's Payment server to Save and process Credit card information.
Click here to see Cleantie in Clover App Market.
Follow steps below to setup and configure your Clover Account to process credit card.
Credit Card Processing Features
Process credit and debit payments.
Accept payments from customers directly inside Cleantie POS or Cleantie Customer App.
Add tip automatically through Cleantie POS to process on Clover.
Add Cash Discount to process on Clover (Coming soon)
Sync payments to invoices.
Run transactions directly on individual invoices.
Email payment links to customers.
Send invoices attached with secure payment links.
Automate payments with Cleantie customer app.
Give your customers the ability to view and pay off invoices at any time.
PCI-compliance. Avoid costly compliance fees with the most secure payment system.
Activate Your Clover Account
Send the following sample email to developer-relations@devrel.clover.com to have your merchant connected to Cleantie App:
App Name: Cleantie
App Id: g9cqyvwk1by7c
Merchant Name: Your business name
Merchant Id: Your Clover Merchant id e.g XXXXGK2HR2G1
Connect Cleantie to Your Clover Account
Signup for 14-Day Free Cleantie Trial account.
After your account is activated, logon to pos.cleantie.com
Select Admin -> Management -> Payment Settings -> Credit Card Gateways
Select "Connect to your Clover Account"
You get redirected to Clover's login screen
Logon to your Clover account, to authenticate, you then get redirected back to pos.cleantie.com
Pairing Your Clover Flex Terminal
If you have Clover Flex terminal, the device will be listed under active devices.
Select option 'Enable Payments via Flex'
Press Save Changes

Install Cloud Display App
Go to Clover Flex main menu, and make sure Cloud Display App is installed on your device. If not logon to your Clover account and install the app.
Go to your Clover Flex and make sure Cloud Display App is Started and running.
To exit Cleantie App to run Clover Flex as standalone terminal, touch and hold all four corners of the screen and pinch towards the center.
      
Setup Cleantie Payment Types
Select Admin -> Management -> Payment Settings -> Payment Types
Enable Online feature for credit cards and debit card.

Setup Customer Card On File (COF)
To save a credit card for COF customers, from main menu, select checkin
Select Edit customer profile.
Make sure customer email is added to profile.
Go to Payment Tab, select the COF checkmark option, enter credit card number, expiry date, CVV and Zip/Postal Code.
As soon as card is saved on file, consent email notification is sent to the user.
Press Save.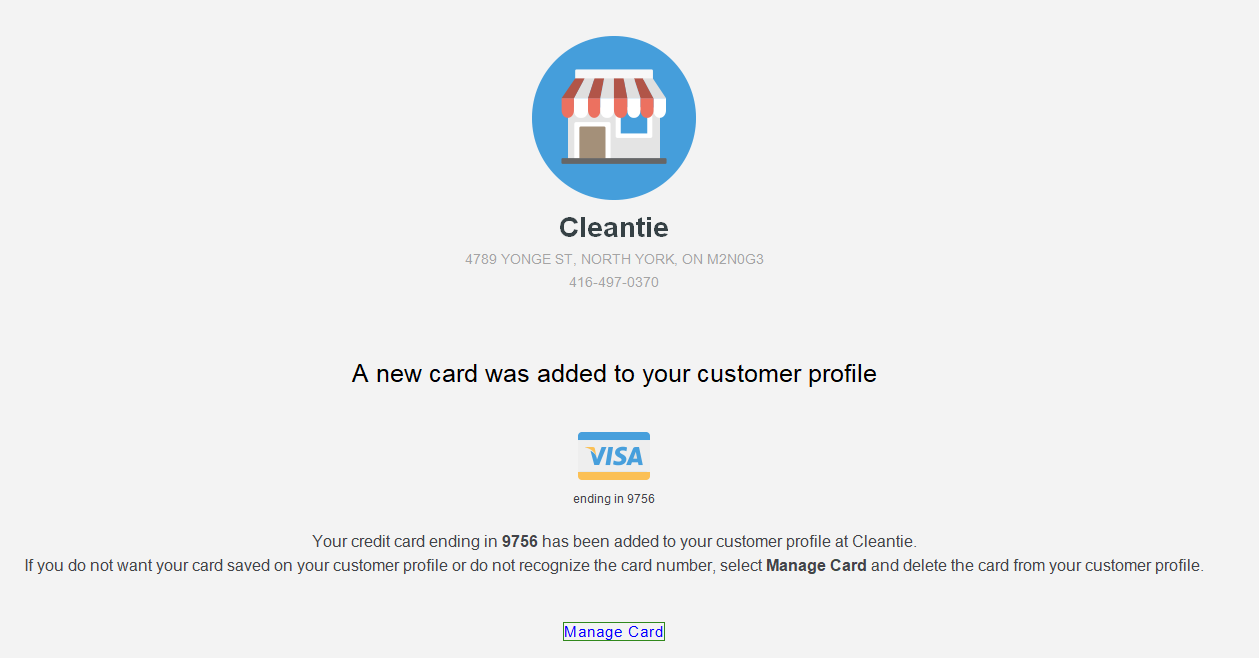 Payment Process
Cleantie offers a very sophisticated payment processing feature that is used during Check-In for Pre-payments, at Check-Out or customer account payment using Invoice Utilities. Except for a few minor exceptions, the process remains the same throughout.
Cleantie processes Credit/Debit and Gift Cards for manual and Card On File transactions. In tender screen, select credit card and follow these steps below:
If your system is equipped with at least one Clover Flex terminal, it is automatically selected.
Press Submit Payment to process the transaction.
The transaction is submitted to your selected Clover Flex terminal and the user is promoted to make the payment on the device.
Upon successful authorization, an approval code appears on the tender screen.
If you like to enter the credit card manually, from terminal drop down, select 'Enter Card Manually' Option.
Enter the card number, expiry date, Press Submit Payment.
If customer has a card on file, the credit card details is auto filled. Select Submit Payment to process COF.

Cleantie Clover Flex Integration Video
Watch Clover Flex integration video to learn how to use Clover Flex in Cleantie. The video walks you through step by step process on payment, refund, adding tips to order etc.