Attracting customers is the primary goal of your business because it is the customer who creates the demand for your services. Businesses often compete through advertisements or lowered prices to attract customers. Happy customers are expected to continue using your services. It is crucial to closely monitor the relationships you have with customers, often asking their feedback to learn whether new products should be created or adjustments made to what is currently offered.
Customer Service
Customer service, the process of ensuring customer satisfaction with your service, is one of the most important aspects of the seller/customer relationship. Loyalty in the form of good reviews, referrals and future business can be lost or won based on good or bad customer service. Customer service has moved in recent years to real-time interactions that utilize automation, chats, social media, text and other means of communication.
Customer Profile
Capture customer information and connect regularly to keep your business top of mind. Cleantie offers a very sophisticated customer profile to track your customer's details. Use customer profile to setup a special price list, assign specific discount, make special requests notes or add urgent Memo to give better customer service. Use CRM notes to track each incident or complains about the customer.
Add details including Birth Date, Wedding Date, loyalty program details, to keep an accurate view of your customers and send targeted marketing campaigns to connect with the customers.
Use Cleantie's custom-made preferences options to track customer's preferences for better customer service. Options like Starch Type, Shirt Folding option or the type of Detergent being used help your business and shows your customer you care.
Save time and money while giving great customer service by using Cleantie automated SMS/email notification system by recording customer's mobile phone and email.
 
Customer Insights
Associate customer profiles with purchases and gain insight into your customers' habits. Translate insights into discounts or loyalty program offers for your loyal customers, and upsell based on your customers' preferences.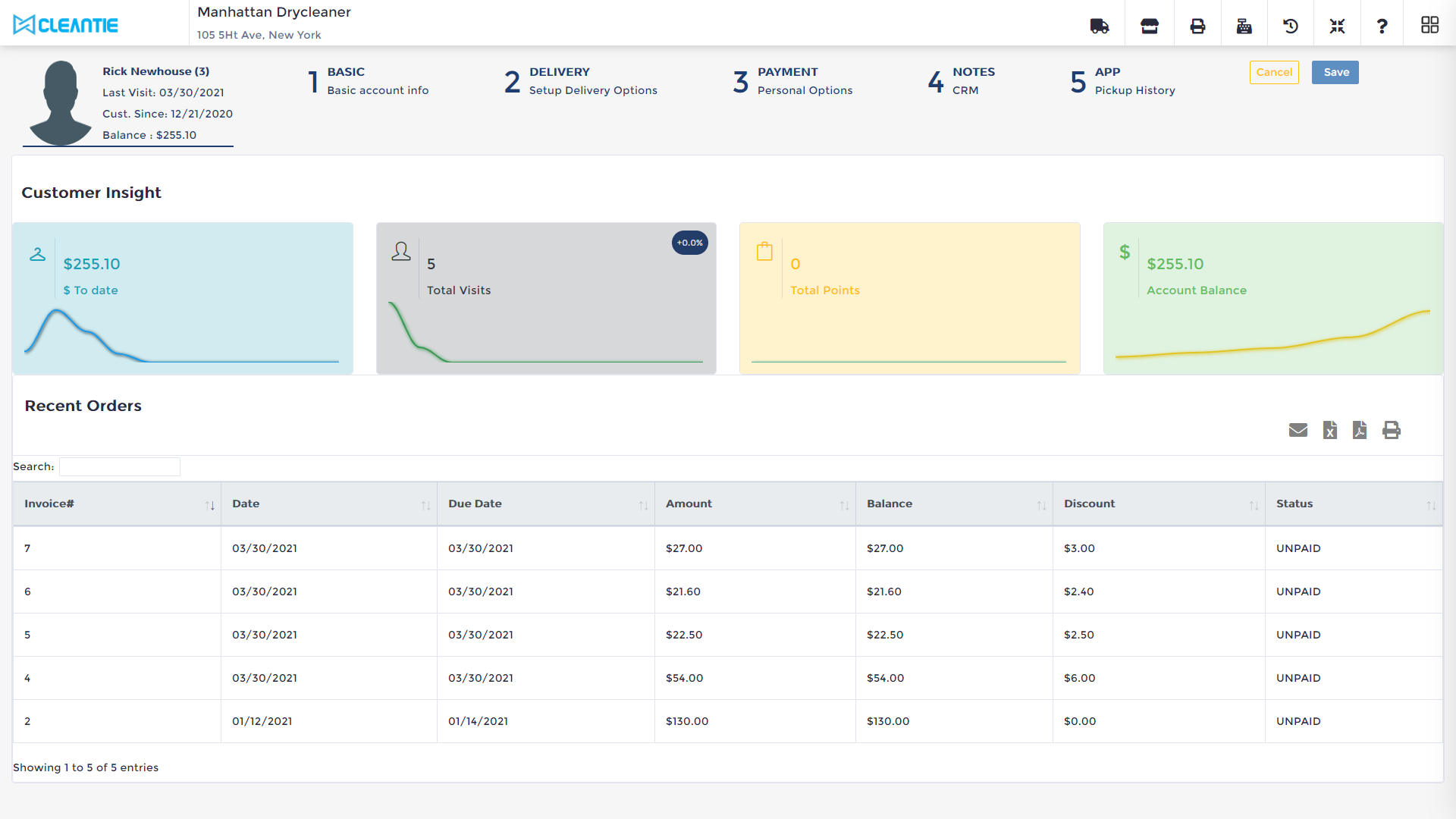 Lookup Customer
From Cleantie's Main menu, select Check-in, Check-out, or Invoice Utility to lookup customer.
Use Search Icon to lookup customer by specific search type. Select Recall to recall the previous customers that were served. Select +New to add new customer without searching.
Use Telephone number, email, customer id, or name to lookup customer. The customer list is reduced as the data matches the search criteria. If the customer is not found, you get prompted to create a new customer.
Use the Edit (man) Icon to edit customer profile, select Email icon to send email to the customer. Click on the customer to make the transaction.

Edit Customer Profile
If a customer profile already exists in Cleantie, then you can edit its information on the fly. From customer search screen select the Edit (man) Icon to update customer's profile, or from check-in screen click on Customer's name to edit the customer profile.
Charge Customer
House Charge Accounts allow your customers to accrue a balance for the services they receive that can be billed and paid at a later date. Charge customers are sent a statement at the end of the month and get paid by credit card or check. To setup charge customer, edit customer profile, select Payment, select Charge from the drop-down menu.
You can send personalized statements to your customers that contain their House Account balances. House Account bills can be sent directly from the Back office Console. To send an account statement please refer to Statement section.
COF Customer
COF customers are referred to customers that have a Credit Card On File. COF Monthly, allow your customers to accrue a balance for the services they receive that can be billed and paid at the end of the month. COF only customers are charged automatically to the card on file during check out process.
To setup charge customer, edit customer profile, select Payment, select COF from the drop-down menu. Enter credit card details.