Merchandise function is used to sell products/merchandise to walk-in or regular customers.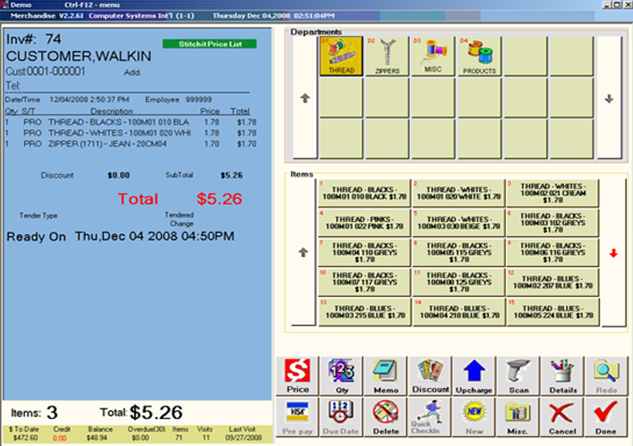 Merchandise Function Process
Select merchandise option from the main menu
Select Walk in or regular customer.
Select appropriate department that product is classified under such as Zippers, thread, misc, and etc. You may scan the barcode at any time during transaction, and the system will auto select the proper product and will be added to the invoice screen on the left-hand side.
The process is the same as checkin screen. Merchandise invoices are checkout auto. If your merchandise items have setup with SKU/PLU, simply scan the barcode on the item. As Merchandise items are sold, they are deducted from Inventory. If total on hand is 0, the system would not allow to sell the item, unless it is allowed in Merchandise setup
To get a list of all items in stock, go to Reports -> Stock Report -> Merchandise report. To make your own PLU/SKU label go to Msic.
For additional info on how to setup merchandise items refer to Management section.