Use the menu icon in the top left corner to access the dispatcher menu. The menu is used to update the dispatcher's profile, see analytics report, view an interactive map to see your users and drivers, or settings to setup your drivers or credentials for 3rd party apps like Postmates.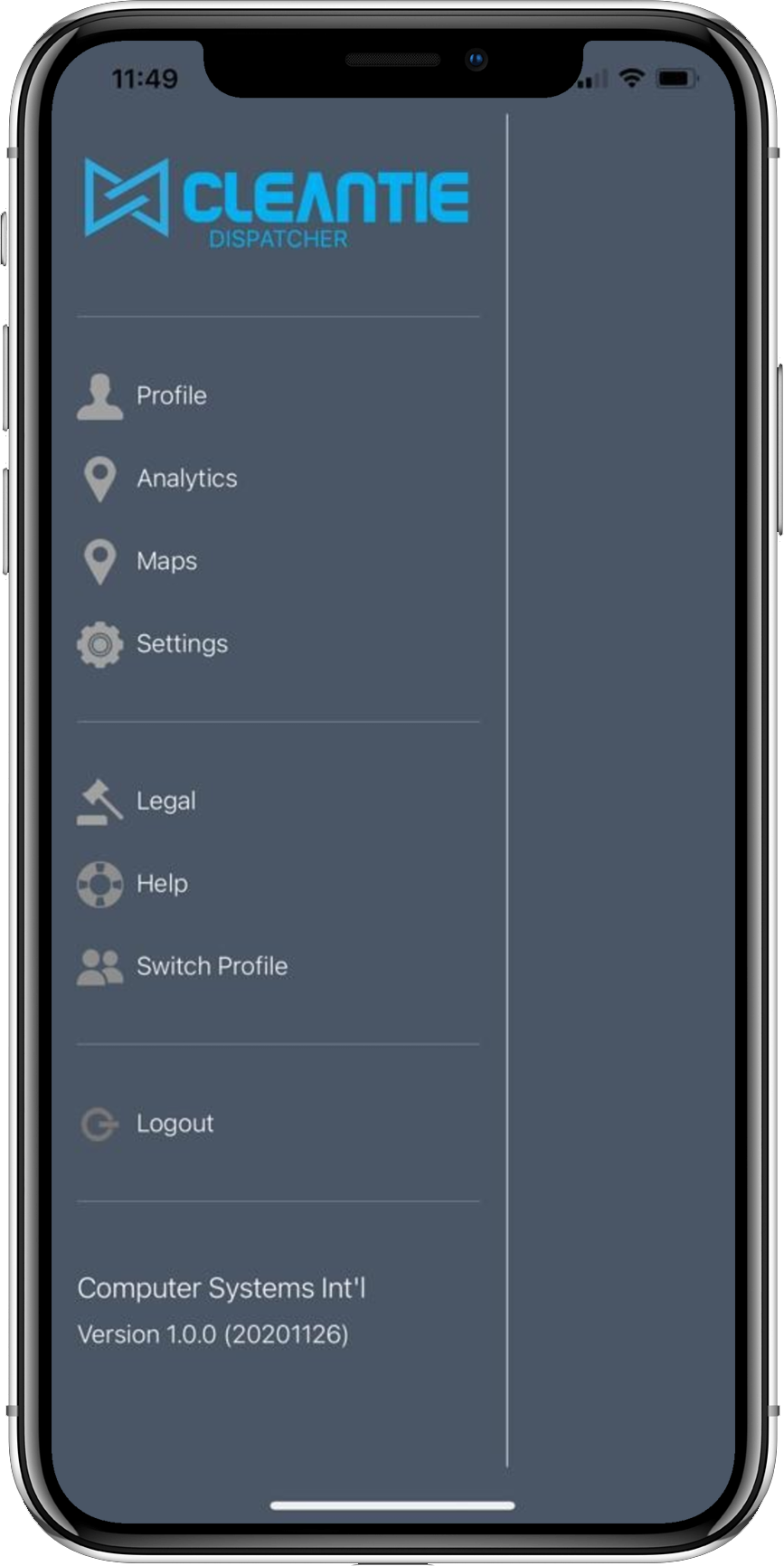 Map
Select the "Maps" option to see your customers and drivers on the interactive map. Select the customer on the map to see a summary of the customer's activities.
Settings
Dispatcher settings are used to setup your profile details and credentials settings for your Postmates accounts. The settings tab can be accessed by clicking the menu icon at the top left of your dashboard.
Once in the settings section, simply click the tab on the left that corresponds with the action you want to perform. The Profile tab allows you to update various items within your dispatcher account.
Postmates Settings
Follow steps below to setup your Postmates Partner Account:
Go to Postmates Partner page and create your API account.
Logon to your Postmates partner account -> Developer -> General page.
From Dispacther App, select Menu icon from top left corner.
Select Settings -> Select Configure Postmates.

Copy and Paste

Authentication Keys from Postmates Account, to Cleantie Dispatcher Settings.
| | |
| --- | --- |
| Customer Id | Your Postmates Account id |
| Sandbox Developer id | Use your sandbox developer id to use our API testing environment |
| Production Developer id | Your production developer id to use the production environment. |
| Sandbox Account Id | Your Sandbox Account Id. This environment should also match the environment of the API key used in your authentication header. |
| Production Account Id | Your Production Account Id. This environment should also match the environment of the API key used in your authentication header. |
| Sandbox Key | Use your sandbox key to use our API testing environment and |
| Production Key | Use your production key to use the production environment. |