Major Release Updates, New + Improved
As you may have noticed, a beta version of the new Cleantie interface has been available for a while. And now it's time to make it official.
The new interface is just a stepping stone to all the new functions and improvements that will help us make our Cleantie app even better for you, so you can grow your business even easier and faster. The following is the list of some of the changes:
The entire interface got a face-lift with modern layout and colors. New Modern Design Schemes allows user to change the interface scheme to light, semi dark, and dark color.
Redesigned the main landing page, check in, checkout , invoice utilities and Ready functions with much better user interface.
Redesigned the admin menu with modern layout.
Redesigned the price list format, app delivery section, manifest.
Added customer activity summary on the top of the invoice to give user immediate feedback.
Redesigned Customer profile, Payment, Due Date, Discount menus, and so much more.
Created new powerful reporting insights help you make smarter decisions that profit businesses of any size.!
The following is a summary of some of the major updates, new and improved features:
Modern Landing Page
The new Cleantie landing page with modern design schemes. Customer and employee satisfaction begins with our intuitive layout. To have the ability to train employees quickly means having the confidence that your operation will provide uninterrupted service to satisfied customers.!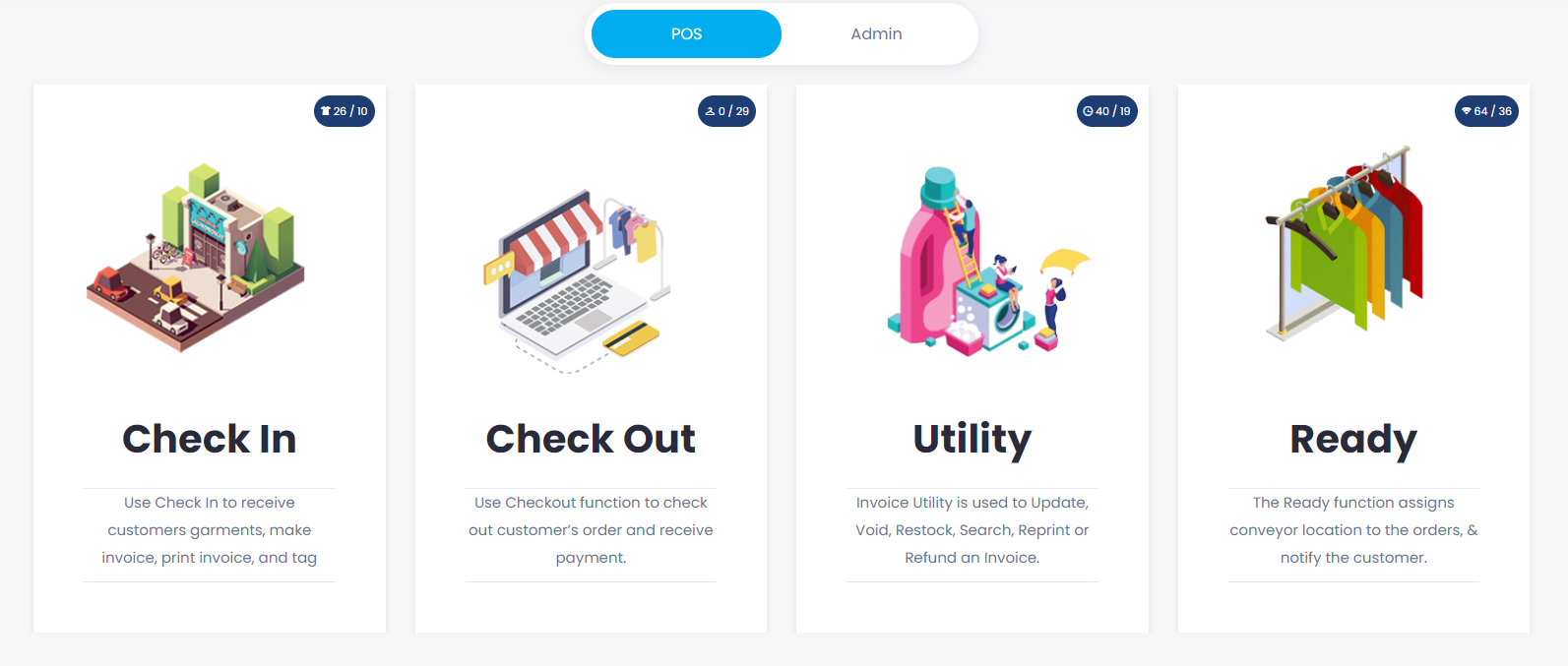 Comprehensive Customer Profile
Redesigned customer profile, with address verification through Google map. Added comprehensive customer insights, details for pickup delivery options, personal preferences, credit card, app pickup history. New customer CRM with option to categorize notes base on delivery, complain, complement etc. The customer history shows the most valuable metrics that give you insight into the behavior of your customers.

Item Detail Screen:
The new redesigned Item Detail screen with modern colors and features. Change qty and price on the fly, apply discount or select coupon easily. Add upcharge, brands. Make notes of stains, damages, or add multi memos.



Payment Screen:
Redesigned Payment Screen with modern layout, added options to text, email, or print receipt. Added Tip option in Payment screen for future implementation. Added support for Square payment processing.
 



New Dashboard
The dashboard shows the most valuable metrics that give you insight into the performance of your store and the behavior of your customers. Data is made digestible for everyone – Cleantie Analytics is designed to make numbers easy to understand.!