TMS supports any barcode scanner on Windows. Setting up your USB Scanner is easy and should work straight out of the box. Simply plug the scanner into the USB port on the computer and the scanner will install automatically.
Setup Scanner To Add Enter Key
To test the scanner, open Windows Notepad and scan a barcode. You should see the barcode data on the screen. The next barcode should go to the next line. If there is no enter key added and you are using a Symbol, Motorola, or Zebra scanner, print the following barcodes, and follow the steps to setup the scanner to add the enter key.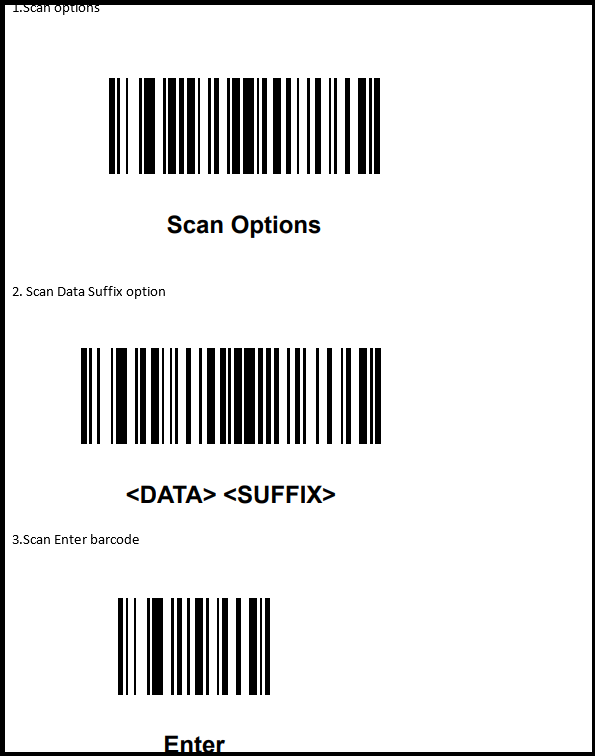 Setup Scanner To Scan Garment Tracking Barcode
CSI Pre-printed Garment Tracking uses Interleaved 2 of 5 symbology with 8 digits. Your scanner must be programmed to accept I2of5. If you are using Symbol Motorola or Zebra scanner follow steps below to setup the scanner:
Download the following Scanner manual, and print pages 12-48, 12-49,
D1, and D4, 13-6,13-7, 13-8
http://laundrypos.net/pdf/symbol_2200.pdf
Scan barcode 'enable int 2 of 5' page 12-48
Scan barcode 'I 2 Of 5 - one Discrete length' pg 12-49
Scan barcode number '0' page D1
Scan barcode number '8' page D4
Scan barcode 'Scan Options' Page 13-6
Scan barcode 'Data Suffix' page 13-7
Scan barcode 'Enter' page 13-8
For additional information on supported scanners click here.